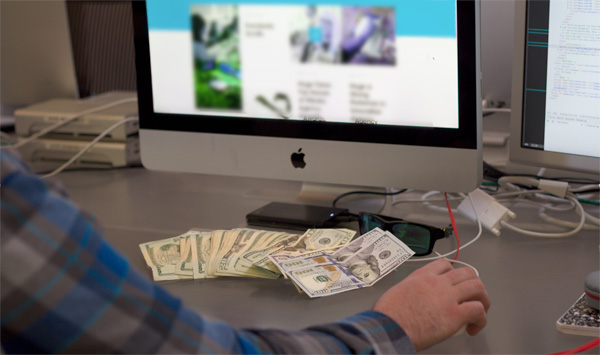 Your website could be a huge a waste of money. Here's why.
Websites seem to be a "necessary evil" cost in doing business in today's market. Some common arguments for having a website are:
1. I need it for my business to look legit
2. My competition has a website so I must need one too
3. I need it for my business to come up in search engine results
Are these arguments true? In the most simplest terms, yes. However, websites are expensive. Whether or not you pay $500 or $500,000 for a website, it's a big chunk of change to be added to your business' expense category. And with every expense, a good business owner will/should always ask,"Is this expense helping my company grow or is it truly just taking away from my profits?"
Yes your website should be helping you grow your company. And not just in a willy-nilly, pie in the sky, "I think people are going to my website and like it", non-measurable kind of way. Thanks to best practices in design psychology and platforms that can measure your web conversion rates, your website can/should be used as one of your greatest, measurable marketing assets in growing your business. What is web conversion you ask? It's when a visitor on your website takes an action that you deem critical to your business—filling out a form to convert to a lead, downloading a whitepaper that positions you as an expert in your field, etc.
So how do you get your web visitors to convert? Let's examine 6 critical best practices for web conversion below.
1. Know what you're better at than your competition and who you serve. Condense this into a message that's big and clear to your web visitor as soon as they land on your website. This should be ONE central message—not a series of messages flashing across your homepage.
2. Connect on an emotional level to your web visitor with professional, relevant photography and/or illustration(s). Stock photography, though typically inexpensive, is often too general and staged to make a real emotional connection with your prospect customers. So invest in a custom photo shoot or pay a little more for stock photography that's relatable (offset.com is a great stock photography site. Plan to pay roughly $300 per photo). You should use 1-3 of these photos to rotate out behind your main message on your homepage—making sure that the message is still legible on top of the photo(s). Again, these images will serve as the emotional pull and connection to your brand.
3. Have 1-2 STRONG call to actions "above the fold" on your homepage. When someone lands on your website, what do you want them to do? First, you need to think like your prospect customer (or better yet, ask them!). What does your web visitor need to see in order to bring them closer to becoming a customer? Hint: Typically it's not asking them to make a purchase or phone call right away (depending on the industry). It's about guiding and informing the visitor along their way through your website in order for them to make an informed decision before "converting" to a lead.
4. Give your web visitor only what they need to speak with you in person or to make a purchase—which is often much less than you think. When web visitors are bombarded with choices (like 10+ links in your top navigation, or are shown all of your products at once on your homepage, or flashy paid banner ads), research proves that they are more likely to take little or no action. They're moved into a "paralysis" state. So keep it simple. Your prospect customers will likely want/need to see the benefits of working with you over your competition (notice I said benefits, not your back story or history), the services or products you offer, and a way to inquire more of your services. A Blog is also important to have for SEO reasons (Google loves on-going updated content).
5. Make sure your website is optimized for mobile phones and tablets. With many people now browsing the web from their phones, your website absolutely has to be viewable on mobile and tablet devices and legible so that one does not have to pinch in with their fingers to read the content.
6. Measure your web traffic and know your conversion rates. How do you do this? First off, your website should take advantage of Google Analytics—a free web traffic tracking tool offered by Google where you set up an account and install the given code into your website. The most important measurements you will find here are how many people are going to your website, where they're going on your website, and where this web traffic is being driven from. Your conversion rate will be calculated by taking the number of people that "convert" (again, defined as the most prominent action you want visitors to take to get them closer to a customer) divided by the number of visitors to your site within a given time frame (usually a month). A good conversion rate is 2-10%. If it's any less than this, it may be time to tweak and test your messaging or consult with your SEO team as far as tweaking traffic sources to your website.
Following these 6 critical best practices for conversion will get your website well on its way to aiding in growing your company and showing measurable results.
Shovel Creative is a graphic design and web development agency dedicated to creating attractive and effective print and web materials, specifically focused on conversion and lead generation. To learn more about our process and how to work together, please contact us here.