Living a jetset lifestyle surely has its pros and cons. Fancy client dinners on the company credit card is nothing to complain about. Room service and a nightly turndown aren't so bad either. But amongst all the glitz and glitter, it's easy to stray from your daily eating and gym routine. I recently took a trip to the East Coast to visit a few clients, and using the tips below eased my stress, and consequently made the trip more enjoyable. Short, early morning workouts gave me energy for the long day ahead, and having an arsenal of healthy snacks in my bag relieved any stress about my next meal options (yes, I'm one of those people!). Don't let your schedule dictate your wellness mantra. Here are 9 tips for traveling and maintaining your wellness routine.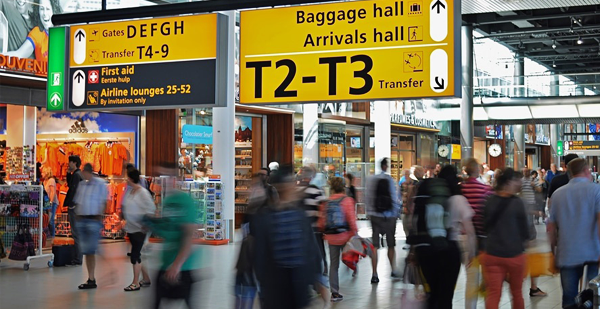 1. Make a deal with yourself
Have a serious conversation…with yourself! Before your travels, establish some boundaries to hold yourself accountable to. Are you going to stay gluten-free all week? Are you going to limit your alcohol intake to two drinks a night? Are you going to hit the hotel gym at least once? It's easy to mindlessly eat and abandon your routine while traveling, so whatever your boundaries may be, set and stick to them.
2. Pack your own snacks
Generally speaking, traveling for work means your regular routine is out of whack. You're up earlier, in longer meetings, and keeping to someone else's agenda. Keep protein filled snacks (like almonds or protein bars) in your bag to squash that mid-morning tummy grumble. Or, check out these chocolatey snacks to satisfy your afternoon sweet tooth. This will help you avoid overeating at the next meal, or stopping by the hot dog stand on your break.
3. Consider your agenda
Spend a little time reviewing what your travel schedule will entail. If you know ahead of time what restaurants you will be attending, check out their menu online so you know what type of meal to expect. This will help you plan out your snacks and meals for the the day, as well as be able to focus on more than just the menu at your meeting.
4. Plain Jane wins the game
Much of the time, traveling for work takes you to new places with new cuisines and novel culinary experiences. Of course, there's always that one client or coworker who likes to order the loaded fries or mudslide pie. Don't be afraid to order something basic, with sauces and dressings on the side, and enjoy the appetizers and sweets in moderation. Looking to be a little adventurous? Offer to split that something-decadent with a co-worker and order a protein or vegetable on the side.
5. Dress for success
Don't get held back because you didn't pack correctly. Usually there is some sort of down time, whether it be in your hotel or walking around the city. Bring comfortable shoes and something you're not afraid to sweat in for these blissful breaks. Trust me, with the precious space your chunky running shoes will take up in your carry-on bag, you'll want to put them to good use at least once! Hit the hotel gym to burn off some stress or get your sightseeing in by foot.

6. Get plenty of rest
We can all agree, jet lag is a real thing. Not only is your external schedule shook up, your internal time clock is going haywire. Is it 9am or is it 12pm? Do I want breakfast or do I want lunch? Am I hungry or do I just think I'm hungry? Get your mind and your body on track by getting plenty of sleep. This will help you avoid that late night stroll to the vending machine or giving room service a ring for that late-night hot fudge sundae.

7. Invest in a reusable water bottle
Those water bottles aren't just a fad! Grab one and fill up. From being on a plane to balancing a jam-packed schedule, often water consumption is sacrificed when we travel for work. Make sure you are staying hydrated throughout the day by keeping a reusable water bottle handy. This eliminates the need for you to ask others for water (again and again and again) and allows you to gauge how many times you've filled up in a day. This water bottle has a filtration system included, so filling up on the go won't ever be a problem.
8. Avoid the snack bar and freebies
We all love a little pick-me-up. Walking around a trade-show or waiting for your next meeting? There are usually chocolate temptations or a never-ending bagel bar just daring you to indulge. Keep on track and avoid the freebies…just because the conference room is a free donut haven doesn't mean you have to take advantage .

9. Consider using an app like MyFitnessPal
At the end of the day, no matter where you're at in the world, if the calories you consume are more than the calories you exude, you're going to see the number on  the scale creep up. Hold yourself accountable and maintain your routine by tracking what and how much you eat, along with how much exercise you get. Apps like MyFitnessPal have thousands of food and restaurant items programmed into food logs, so all you have to do is search and select. Get a full report based on your weight loss and/or weight maintenance goals.

Maintaining your routine while traveling doesn't have to be difficult or tasking, it just requires you to be mindful of your schedule and diet. Remember to aim for the 80/20 rule…eat healthy, nutritious foods 80% of the time, and 20% of the time allow yourself to indulge in those scrumptious cravings. Sticking to a routine will not only ease anxieties about traveling for work, it will ease your anxieties when you're at home too. Happy traveling!