Creative roles that involve brand management and marketing require a special kind of focus. Here at Shovel, we try to keep our minds sharp with nutritious snacks (and obviously, copious amounts of caffeine) throughout the day. Then the chocolate cravings hit. 9:30am and you're on deadline? Chocolate cravings don't care. They demand immediate satisfaction whenever they strike. And sure; giving into that leftover birthday cake in the break room fridge may seem like a plausible idea, until you wake up three hours later with a sugar hangover, face-planted and drooling on your keyboard. Thankfully with some smart choices, our urge for a sweet, midday fix need not derail our creativity or our good eating habits. Try these five go-to healthy chocolate snacks to power through your day.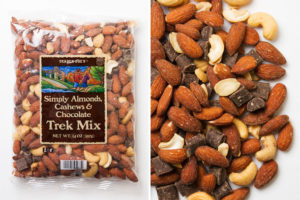 1) Trader Joe's Simply Almonds, Cashews & Chocolate Trek Mix


Why this is so good: It's all about the 2:1 nut-to-chocolate ratio that prevents chocolate overload. Unless, with your face buried in the screen, you mindlessly devour the whole bag, which honestly is what usually happens.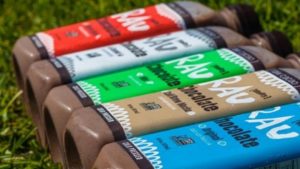 2) Rau Chocolate Original Superfood Drink


Why this is so good: It's like chocolate milk for grownups — specifically, grownups who prefer their chocolate milk cold pressed from single-origin, fair trade, organic Ecuadorian raw cacao beans… and without dairy or sugar. Plus we like the package design. Just be careful not to leave chocolate rings on your latest glossy company promo-piece. Very un-grownup-like.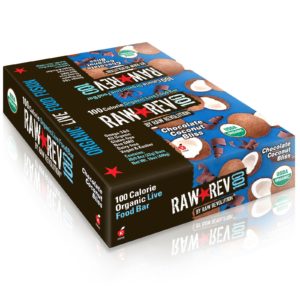 3) Raw Revolution Chocolate Coconut Bliss Bar, a Cold Brew, and a Banana
Why this is so good: Take a bite of the bar. Now take a bite of the banana. Then a sip of the cold brew. The flavor combination just works. Plus, there's that extra caffeine boost from the coffee, which nobody is mad at.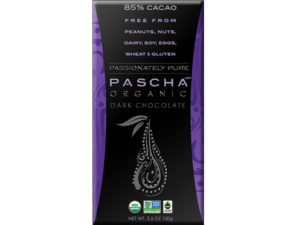 4) Pascha 85% Cacao Organic Dark Chocolate Bar


Why this is so good: When you don't want anything to come between you and your chocolate. Just be prepared to clean the chocolate fingerprints off your space bar, "f" and "j" keys.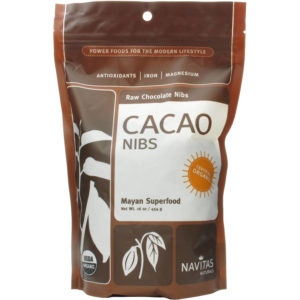 5) Greek Yogurt Sprinkled with Navitas Naturals Cacao Nibs


Why this is so good: Some people say yogurt is just as delicious as ice cream, which is obviously a ridiculous thing to say. But with the added decadence of these chocolatey little nibs, it's a more-than-decent substitute. Pro tip: Go for full fat yogurt. Live a little.
______________________________
Trust me, I know all too well the magnetic pull of the last chocolate-glazed donut from the box your coworker brought in (it's the only one left and it's lonely! :/ ). But when you have these healthy, creativity-boosting snacks ready to satisfy your chocolate craving, it's a lot easier to do the right thing. Best of luck.